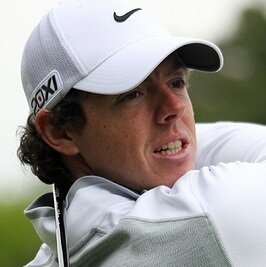 Rory McIlroy has surprised the European Tour, golf fans in China, and the world of golf in general by backing out of the upcoming "China swing" on the Euro tour.
The 25-year-old from Northern Ireland is taking time to concentrate on an
upcoming court battle
with his former management company, Horizon Sports:
"I'm going to need time away from tournament golf to prepare for the trial over my legal dispute with Horizon Sports Management. The court-directed mediation process failed over the weekend to resolve the issue."
Last year, McIlroy started the court proceeding against Dublin-based Horizon, claiming that he was cozed into signing what he now calls an "unconscionable contract" with the firm that includes what he says are "excessive commissions." Before McIlroy's contract ended, he signed lucrative endorsement deals with Nike, Omega, and Bose. For their part, Horizon believes they are due commissions for those deals, as well as for future deals.
If McIlroy loses his court case, he could end up having to pay Horizon tens of millions of pounds over those commission fees.
For the next several weeks, McIlroy is giving up the chance to earn gobs of prize money and appearance fees in China, including at the BMW Masters and the WGC-HSBC Champions. That is unwelcome news for the European Tour, the sanctioning body for those tournaments. It also means that despite McIlroy's £2 million lead on the Order of Merit, Henrik Stenson and/or Sergio García.
When the Tiger Woods infidelity scandal exploded, Woods lost several endorsement deals and an untold amount of good will on the part of golf fans and sponsoring companies. Woods has not won a major championship since then, although he has taken two World Golf Championship series titles and seven PGA Tour events since the scandal broke late in 2009.
So now, people will be wondering whether McIlroy's game will suffer if he loses this case, which will be heard by the Commercial Court in Dublin sometime early in 2015.
Have you seen an interesting golf story? Tell us about it!
Image via Flickr
no comments posted yet.